July 2013, Vol. 12, No. 7
---
In this issue:
NSA spying remains in the spotlight
New Resources and Opportunities
---
NSA spying remains in the spotlight
Over the past month, a series of events have continue to draw attention to ongoing dragnet domestic surveillance by the National Security Agency, which began over a decade ago but seized public attention after The Guardian published previously secret documents leaked by whistleblower Edward Snowden.

On July 16, BORDC joined a lawsuit filed by the Electronic Frontier Foundation (EFF) to challenge the NSA's bulk metadata collection activities, supported by nearly 20 organizations representing a wide variety of political perspectives. The new suit, First Unitarian Church of Los Angeles v. NSA, adds First Amendment claims based on the right of association to previous Fourth Amendment arguments raised in EFF's prior lawsuit, Jewel v. NSA, in which a federal judge on July 8 rejected the government's illegitimate assertion of the state secrets privilege.

BORDC is also challenging the NSA in the streets. On Independence Day, grassroots mobilizations around the country drew thousands of participants across the country. Initiated by a new online community, Restore the Fourth, and actively supported by BORDC, the demonstrations also secured headlines in dozens of cities, including stories in the Los Angeles Times, the Washington Post, and Time magazine. BORDC's Shahid Buttar addressed the July 4 rally in Washington DC, and played a key role in securing support from dozens of diverse co-sponsoring organizations from across the political spectrum.

In addition to court challenges and grassroots mobilizations, members of Congress are also raising their voices, perhaps inspired by recent polls reflecting that a sizable majority of Americans agree that NSA spying on Americans has gone too far.

Senate Judiciary Chairman Patrick Leahy (D-VT) has re-introduced bipartisan legislation to curtail NSA spying modeled on bills he has previously sponsored, supported by Senators Mike Lee (R-UT), Mark Udall (D-CO), Ron Wyden (R-OR), Richard Blumenthal (D-CT), and Jon Tester (D-MT). The FISA Accountability and Privacy Protection Act would accelerate sunsets and require a factual basis for controversial orders under Section 215 of the USA PATRIOT Act, as well as pen registers and trap & trace devices under FISA.

In the House, Ranking Judiciary Member John Conyers (D-MI) and Congressman Justin Amash (R-MI) introduced the bipartisan LIBERT-E Act to limit the NSA to seeking phone records of particular targets, and require partial disclosure of otherwise secret decisions of the FISA court. In a rare joint statement, Conyers and Amash—who champion dramatically different political perspectives—agreed that:

Free countries must not…operate under secret laws. Secret court opinions obscure the law. They prevent public debate on critical policy issues and they stop Congress from fulfilling its duty to enact sound laws and fix broken ones.

Rep. Amash also supports amendments to the Defense Department Appropriations bill to restrict NSA spying, opening up yet another front on congressional resistance to NSA abuses. His proposed amendment represents the most aggressive congressional challenge to the NSA since the failed JUSTICE Act, yet was surprisingly approved by the House Rules Committee on Monday, July 21. Reacting to the vote, "[t]he National Security Agency kicked its lobbying into high gear" by calling an emergency private briefing.

Amendments to the House Defense appropriations will be up for a vote by the full House of Representatives as early as Wednesday, July 24, offering an excellent opportunity to contact your representative to share your views about domestic spying. Note that the House leadership has introduced a decoy amendment sponsored by Rep. Richard Nugent (R-FL), which is ultimately a red herring that would fail to meaningfully restrain NSA activities.

Meanwhile, new reports emerged offering further grounds for concern, including anonymous reports from officials suggesting that the secret FISA kangaroo court has dramatically reinterpreted the constitutional scope of the fourth amendment, in addition to approving secret dragnet surveillance requests by the FBI and NSA.

Finally, more and more voices have called for the prosecution of Director of National Intelligence James Clapper for perjury. Clapper lied to Congress this spring, when falsely claiming that the NSA does not collect private information about millions of Americans. Last month, BORDC's Buttar wrote in Progressive magazine:

[T]he news cycle has obsessively focused on NSA whistleblower Edward Snowden, his psychology, and most recently, his whereabouts. Lost in this emphasis is the original focus on the real criminals at the NSA, and across the executive branch, who have conspired to assault the Constitution.


Many of the same officials complicit in dragnet domestic spying, including director of national intelligence James Clapper, have attempted to cover outright lies to Congress with self-serving claims that Snowden's leaks undermined national security.

Sen. Rand Paul (R-KY), in particular, has affirmed that Clapper should resign, while stopping short of observing that his misrepresentations constitute obvious perjury. Even one of the original authors of the USA PATRIOT Act, Rep. James Sensenbrenner (R-WI), wrote in Politico that "Clapper likely lied in his apology for lying."
BORDC News
BORDC in the news
In the last month, BORDC and coalitions we support across the nation have appeared in various press outlets to promote concerns about constitutional rights and the powers of police and intelligence agencies that abuse them.

On July 16, BORDC's Shahid Buttar participated in a press conference announcing the new Electronic Frontier Foundation (EFF) lawsuit, First Unitarian Church of Los Angeles v. NSA. Politico quoted his explanation that:

You don't have to have anything to hide in order to be incensed by the state taking your money to watch everything you're doing…[The] surveillance is offensive in itself.

Buttar also spoke about the case on BBC World, as well as Flashpoints, a syndicated radio program distributed across the West Coast.

On July 11, Buttar spoke at a protest at the Department of Justice, covered by international media including Agence France-Presse. He called for the federal prosecution of Director of National Intelligence James Clapper for lying to Congress, the press, and the American people, explaining:

The fact that there is no transparency in these programs, that there have been no checks and balances in these programs, that there's been no accountability for the government abuses here, suggests…that what Edward Snowden did was a very vital public service for our nation to enable, finally, a long overdue public debate on these very fundamental questions.

Buttar also contrasted the controversy surrounding whistleblower Edward Snowden with the free pass enjoyed to this point by "the real criminals at the NSA, and across the executive branch, who have conspired to assault the Constitution," in an article published by Progressive magazine on June 25. Buttar also appeared on various radio and online programs over the past month, including Erskine Online on July 13; WMUA in Amherst, MA on July 10; WBAI in New York City on July 9; syndicated program America's Radio News on July 4; and KALW in San Francisco on July 3.

On July 6, the New American published a story noting BORDC's participation in a transpartisan coalition supporting the California Liberty Preservation Act, unanimously passed by a state Senate committee to repudiate the domestic detention authorities of the National Defense Authorization Act (NDAA) of 2012, which could permit the government to detain Americans indefinitely without charge, trial, or evidence of crime.

On June 21, Al-Jazeera featured Buttar in a panel discussion about the nomination of Bush administration lawyer James Comey to lead the FBI, which raises disturbing questions about torture and surveillance in which Comey was complicit.
Read the latest news & analysis from the People's Blog for the Constitution
Have you read BORDC's blog lately? The People's Blog for the Constitution has attracted a growing audience that has tripled over the past year. Featuring news & analysis beyond the headlines on a daily basis, it offers a great way to stay up to date and informed.
Highlights from the past month include:
BORDC joins lawsuit vs. NSA spying, represented by EFF
BORDC joined a new lawsuit, First Unitarian Church of Los Angeles v. NSA, organized by the Electronic Frontier Foundation to challenge the bulk collection of Americans' telephone records by the NSA. BORDC is one among nearly 20 organizational plaintiffs, representing a broad swath of diverse Americans outraged by unconstitutional government surveillance.

The lawsuit raises First and Fourth Amendment arguments, in addition to a Fifth Amendment vagueness claim, in challenging Section 215 of the USA PATRIOT Act and the NSA's dragnet seizures of telecommunications' metadata. BORDC was at one point a Verizon business customer, rendering our organization subject to the now infamous FISA court order published by the Guardian after its disclosure by whistleblower Edward Snowden.

Because the government has admitted to these dragnet surveillance activities, the standing barrier on which the US Supreme Court justified its decision to ignore the merits of prior legal challenges to NSA abuses (such as Clapper v. Amnesty Int'l) does not apply. Instead, the government's admission confers indisputable standing to millions of Americans, several of whom joined the EFF lawsuit.

BORDC is joined by several organizational plaintiffs from across the political spectrum named in the complaint, including First Unitarian Church of Los Angeles, Cal Guns Foundation, the National Organization for the Reform of Marijuana Laws (NORML), People for the American Way, and several chapters of the Council on American-Islamic Relations.
United by a common appreciation for our nation's constitutional tradition, despite the bipartisan assault waged by the White House and Congress under the leadership of both major political parties, the plaintiffs represent a diverse cross-section of America.
BORDC to rebrand as BORRN and launch new website
BORDC is proud to announce that, this fall, the organization will launch a new website under a new brand, the Bill of Rights Renewal Network (BORRN).

Since being founded over a decade ago to fight the USA PATRIOT Act, the Bill of Rights Defense Committee has struggled to maintain an updated web presence in the face of fast-moving policy changes. Our new website will leverage the decentralized content administration enabled by using an open source content management system, and also enable more sophisticated search engine optimization and help us reach a broader audience.

Meanwhile, the organization's new name, the Bill of Rights Renewal Network, will make our grassroots, coalition-building approach clearer and more accessible to the public. We look forward to announcing the new website when it launches later this year.

Grassroots News
July 2013 Patriot Award: Scott Somerville from Fairfax, VA
Each month we honor someone who has made an outstanding contribution in his or her community to the movement to defend civil liberties. This month, the Patriot Award goes to Scott Somerville, of Fairfax, VA, for his longstanding commitment to civil liberties and his recent work for Restore the Fourth, a national movement to restore the Fourth Amendment.

Scott recalls first taking an interest in civil liberties "when I was 13 or 14." He grew up in Tampa, FL, where his mother worked for the Treasury. His father fought in Vietnam, and Scott learned to honor the flag and respect his country. Critics of activists, particularly those who like Somerville often fight against government policy, should take note: activists can be patriots, too. As Somerville understands, it is freedom, not surveillance, that is the really American thing.

Somerville was most recently spurred to action by Edward Snowden's whistleblowing. The leaks, which revealed the NSA's massive data mining operations, provided plenty of reason to get angry and start organizing, though for Somerville there was more to it than that. For Somerville, it was inspiring to see someone with a comfortable life give it all up for a cause. Snowden didn't just talk to his friends about his discomfort—he made a sacrifice to do what was right.

It's a perfect cause for Scott, who served as the assistant director of the Washington, DC rally. He created the Facebook page, actively promoted the rally on Reddit, submitted the protest permit, gathered people on site, and dealt with police, among other things. It ultimately was a huge success: the Cato Institute and Institute for Policy Studies (often-opposed think tanks) came together to co-sponsor the rally; NSA-executive-turned-whistleblower Thomas Drake addressed the crowd; and the event received widespread coverage, including in the Washington Post.

Somerville hopes Restore the Fourth will remain active over the coming months. He said the organization hopes to hold events on the fourth of each month, and continue to build support. "We need to make sure momentum isn't lost and voices are heard," Somerville said.
And Somerville has also recently begun work on a separate project, something smaller but still important: reforming Virginia's outrageously stringent reckless driving laws.
Doubtless the movement to change those laws is in good hands with Somerville. He gets what activism is all about: "Democracy isn't voting, and hoping for the best, and doing nothing for four years," he said. It's about people, people like Scott Somerville, taking things into their own hands and building social movements to unite Americans around our most widely shared values.
Grassroots updates

To view campaigns supported by BORDC at a glance, visit our interactive campaign maps for local coalitions addressing surveillance and profiling by local law enforcement, or military detention under the NDAA. To get involved in any of these efforts, please email the BORDC Organizing Team at organizing (at) bordc (dot) org. We're eager to hear from you and help support your activism!
California: Senate committee approves AB 351 vs. NDAA
On June 25, the California Senate's Public Safety Committee voted to approve AB 351. The bill "would prohibit an agency in the State of California, a political subdivision of this state, an employee of an agency or a political subdivision of this state, as specified, or a member of the California National Guard, on official state duty, from knowingly aiding an agency of the Armed Forces of the United States in any investigation, prosecution, or detention of a person within California." AB 351 has received support from across the political spectrum as it has moved through California's legislative process, which led to its passage out of the Assembly with a vote of 71-1 in May.
The bill is now slated to go to the Senate Appropriations Committee, which is expected to vote yes. It will then move to the full Senate floor. If approved, Governor Jerry Brown will still have the opportunity to veto the bill. Over the last year, several bills addressing the indefinite military detention provisions of the NDAA that have been approved by legislatures have been vetoed, so at this point grassroots action is the most reliable way to help move this bill forward.
California: Senate committee approves state immigration bill
Also in California, the California Transparency and Responsibility Using State Tools (TRUST) Act passed out of the California Senate Public Safety Committee with a vote of 5-2. The bill, for which BORDC sent an official letter of support, would limit local police from supporting the deportations of undocumented people under the so-called Secure Communities (S-comm) program. S-comm directly links the Immigration and Customs Enforcement (ICE) database to the FBI's criminal records database, contributing to the ever-growing, ubiquitous intelligence and surveillance state. Like AB 351, the TRUST Act will head next to appropriations and then to the Governor's desk. Governor Jerry Brown vetoed last year's incarnation of the act, so public pressure will be essential in moving the bill forward.
Berkeley, CA: Coalition sponsors NAACP forum
On July 14, the Berkeley Chapter of the National Association for the Advancement of Colored People (NAACP) held a community forum on the status of marginalized communities in Berkeley. The forum was co-sponsored by the Coalition for a Safe Berkeley, ACLU Berkeley North Eastbay, SEIU 1021-BMC, and the African American/Black Professionals and Community Network.
The event, held in the meeting room of the South Branch of the Berkeley Public Library, was completely packed. Community members stood in every available space as panelists spoke on issues including healthcare, housing, education, and employment. The common thread in the conversation was that, although it is viewed as a very liberal city, Berkeley has issues with discrimination too.
San Francisco, CA: Grassroots coalition challenges NSA spying at political fundraiser
On July 12, around 70 people picketed a fundraiser for Representative Nancy Pelosi in protest of her support for National Security Agency (NSA) spying. Pelosi was scheduled to appear as the guest of honor at a Democratic Party fundraiser in Belvedere, where tickets for the reception ranged from $2,000 to $32,400 per couple.
Speaker Pelosi represents the liberal district of San Francisco, but she has been less than vocal about any opposition she may have to dragnet surveillance. In fact, last month Representative Pelosi faced tough questions and heckling from a progressive crowd at Netroots Nation, particularly when she stated that Snowden broke the law when releasing information about the unconstitutional NSA spying programs. As the congressional recess returns representatives to their home districts, similar opportunities to ensure public opinion is heard will be available to activists around the country.
New York, NY: Coalition takes action to stop racial profiling
On June 27, the New York City Council passed two historic pieces of legislation that will bring desperately needed reform and accountability to the New York City Police Department. One bill will substantially broaden protections against profiling by police. The other will appoint a commissioner at an independent agency to oversee the NYPD.
The passage of the bills is important both for the added protection they bring to New Yorkers and because it shows the power of the broad-based organizing model employed by the coalition promoting the bill, Communities United for Police Reform. The legislative victory builds on decades of courageous work in the movements for police accountability and racial justice. Both pieces of legislation passed by 34 or more votes, assuring that if the votes stay the same a threatened veto by Mayor Bloomberg can be overridden by the city council.
Northampton, MA: City Council adopts anti-drone resolution
On July 12, the city council of Northampton, MA, BORDC's hometown, took a stand against the use of drones for strikes abroad and surveillance at home. The council passed a resolution rejecting federal regulations that could make virtually all airspace a potential future site of domestic drone surveillance. Northampton is one of the first municipalities in the country to take an official position regarding drones. (The first was Charlottesville, VA.)
Paul Voss, an associate professor of engineering at Smith College who helped research and write parts of the resolution, said the Northampton resolution is in fact unique in its approach. "Northampton may be the first city in the nation to say that drone aircraft do not have the 'public right of transit' through our backyards and neighborhoods," he said via email. "If the Northampton resolution spreads to other communities, as appears to be happening, it could be a major step towards protecting privacy, property rights, and local control in an era of flying robots."

The resolution, unlike of some of what has been proposed, does not aim to ban drones—a class which encompasses really all unmanned flying vehicles, including the likes of remote-controlled toy helicopters. Rather, it aims to ensure that airspace directly above people's property, which has long been seen as a part of that property, is not taken by a Federal Aviation Administration (FAA) eager to regulate more airspace and thus open it up for public use by any approved flying vehicles—such as surveillance drones. Jeff Napolitano, program coordinator at the American Friends Service Committee and one of the resolution's architects, said he hopes the resolution "will cause people to scrutinize this technology and be aware of what it can do and the problems it poses."
Law and Policy
Bush lawyer nominated to lead FBI, raising torture, surveillance concerns
On Tuesday, July 9, the Senate Judiciary Committee held a hearing on the nomination of Bush administration lawyer James Comey to lead the Federal Bureau of Investigation (FBI) as Director. After generally failing to explore the many reasons for concern about Comey's nomination, the Committee unanimously approved it on July 18, sending it to the full Senate for an impending vote.

The most contentious points of the July 9 hearing, which was generally congenial, focused on Comey's views on torture and his approval of waterboarding during the Bush administration. While Comey asserted that he now believes that waterboarding is torture and is illegal, he struggled to explain his approval for the practice at the time.

Comey asserted that his decision at the time was based on the fact that 1994 statute governing torture was "very vague" and thus difficult to interpret. On its face, however, his assertion is incredible.

Waterboarding is designed to – and does – induce the fear of drowning and suffocation for its victim. The law defines torture as an act intended to "inflict severe physical or mental pain or suffering" caused by, among other things:

(A) the intentional infliction or threatened infliction of severe physical pain or suffering;
(B) the administration or application, or threatened administration or application, of mind-altering substances or other procedures calculated to disrupt profoundly the senses or the personality;
(C) the threat of imminent death

The fear of death by drowning quite squarely fits all three. Moreover, as pointed out at the hearing by Senator and Judiciary Committee Chair Patrick Leahy (D-VT) and later Senator Sheldon Whitehouse (D-RI), waterboarding has been recognized to be torture since the Spanish Inquisition and the US has prosecuted US Citizens and Japanese soldiers alike for waterboarding.

Even without the allegedly vague 1994 law, there existed an abundance of other laws and treaties that made waterboarding illegal. Thus, Comey's answer seems to be disingenuous at best and has been described far less charitably by prominent blogger Andrew Sullivan, who wrote:
Give me a break. No court – domestic or foreign – had ever found waterboarding not to be torture in 2005 as surely as 1905. There is nothing vague whatsoever about it. Nor is there anything vague about the very broad anti-torture laws that the US enforced before the war criminals of the last administration got their hands on total power. And Comey has the gall to call himself a leader! He was not a leader; he was following orders. And he has not repudiated the many other torture techniques that were in place before his departure in 2005. Any government figure who has that amount of contempt for the law, that amount of confusion about clear legal rules, and that amount of tolerance for torture has no place in any public office, let alone the FBI.

Another form of torture, force-feeding, was also raised at the hearing. Senator Dianne Feinstein (D-CA) who chairs the Senate Intelligence Committee vividly described the ongoing, brutal forced feeding of prisoners at Guantánamo who are on hunger strike.
Comey noted that he would not like to undergo force feeding himself, but conspicuously declined to take a stand against the practice.

Finally, Comey indicated his support for the dragnet collection of metadata from law-abiding people within the United States, arguing that it was valuable, but then declined to comment more extensively about the program, disclaiming knowledge of the widely publicized revelations about the NSA's spying.

Pressed further by Senator Mike Lee (R-UT) about the legality of such mass collection, Comey mused that it presented an interesting question and that, if confirmed, he would ask the Department of Justice to look into it. Comey also pushed back against the characterization by Senator Chuck Schumer (D-NY) of the secret FISA court as a rubber stamp, asserting, against the facts, that there was meaningful judicial review taking place.

Senator Rand Paul (R-KY) has threatened to filibuster the Comey nomination over the FBI's delay in responding to a set of inquiries about its use of domestic surveillance drones. This concern was also raised by Senator Chuck Grassley (R-IA) at the hearing. Senator Ron Wyden (D-OR) joined the chorus this week, writing a letter to Comey "to clarify [the nominee's] views on several aspects of government surveillance authorities…"

The Senate Judiciary Committee left unexamined a host of further, deeply problematic practices at the FBI, including the use of systemic racial profiling via ethnic mapping, the use of informants to target and entrap vulnerable people and populations, and the FBI's embrace of biometric tracking. The full Senate is poised to vote on the nomination as soon as this month.
Immigration enforcement threatens civil liberties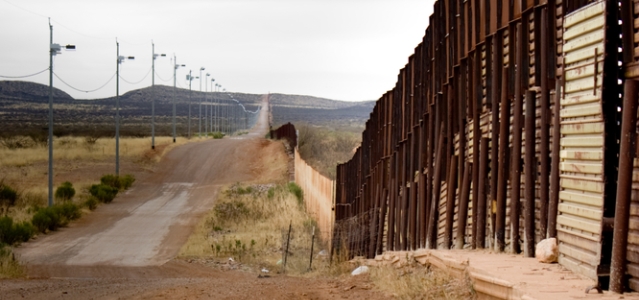 Pressure for immigration reform has taken a dramatic turn in the Senate. The bipartisan Gang of Eight recently came together to announce a comprehensive immigration reform compromise that would have extended citizenship to 11 million undocumented workers until various amendments were added, including one with various enforcement provisions proposed by Senators Bob Corker (R-TN) and John Hoeven (R-ND).

The result, Senate Bill S. 744, is less about immigration than about militarizing the American-Mexican border and furthering surveillance of Americans at the cost of $47 billion. Not only will the Senate bill move America toward a war zone on the US-Mexico border, but it will also infringe upon the privacy of Americans, and cost taxpayers billions of dollars to do so.

One of the most terrifying and invasive proposals of this bill is its demand for collecting biometric data, such as photographs. The current bill requires employers to use an e-verification system where all employers will be required to use photographic proof of identification and citizenship before hiring new employees. Many fear that keeping a constant record of biometric data on all Americans will not stop at employment but extend into every element of our lives.

Another program is the bill's provision of a militarized border. This proposal presumes that America must secure its border as an element of making immigration reform successful. For Congress, a goal of 90% border security requires increased surveillance and an expanded para-military presence. The proposed militarization of the border will affect not only undocumented immigrants trying to enter the country, but also 7 million American citizens living in border towns.

This bill will establish a minimum of 700 miles of barrier walls dividing the US from Mexico. It also calls for 85 watchtowers, 488 fixed remote video surveillance systems, 4,425 ground sensors, 40 helicopters, 30 marine vessels, 232 mobile surveillance systems, and numerous VADER radar systems. The new bill will provide that 18 drones be used to monitor not only the border but also American cities, including US citizens who live along the border.

Senators Corker and Hoeven did not stop at helicopters and drones sweeping through the skies, but also called for 41,000 border patrol agents to monitor the border around the clock. With the Pew Research Center having already documented negative net migration across the southern border (meaning that more people are leaving the US than entering), there is no doubt that heightened surveillance will bring new invasions of privacy impacting the American public.

Human rights groups have long sought comprehensive immigration reform to help address the 11 million immigrants who currently reside in and work for America, as well as their families, employers and communities. However, the cost for this goal is becoming very steep with the help of Corker and Hoeven. The ACLU issued a scathing statement regarding the bill, calling it "unprecedented" and "obscene:"

Changes were made to the bill at the eleventh hour that meddled with what was already an unprecedented expansion of border enforcement in the base bill and increased it to obscene levels. These expenditures are wasteful, unnecessary and lack government oversight or accountability, and they put everyone who lives, travels, and works near the border at risk.

The Rights Working Group, in partnership with BORDC, has also come out in opposition. RWG notes the human rights issues the bill is plagued with but also the terrifying militarization of the border.

On the same page, the Border Human Rights Network has been working on a campaign to oppose the amendment and organized protests that took place around the country on July 17. The question being asked by grassroots networks and human rights groups around the country is: Are we jumping from the frying pan into the fire? The culmination of creating an immigrant caste system, a 13 year road to citizenship and no health insurance combined with the biometric data demands and the militarization of the border is just as heavy a burden as the $47 billion price tag attached to it.
Drone strikes found to escalate civilian casualties
The justification for the use of unmanned drones to commit killings overseas continues to grow thinner. A new report released by Larry Lewis, a principal research scientist at the Center for Naval Analyses, and Sarah Holewinski of the non-governmental organization Center for Civilians in Conflict, reveals that drone strikes are far less accurate than previously believed. The report states: "The assumption that UAS [Unmanned Aerial System] strikes are surgical in nature is...belied by research on recent combat operations in Afghanistan. There, UAS operations were statistically more likely to cause civilian casualties than were operations conducted by manned air platforms." Reports of civilian deaths vary widely, but the report authors appear to have been conservative in their estimates.

This is in direct contradiction to the claims made by supporters of the use of drones, including President Obama. Senator Dianne Feinstein has emphasized that civilian deaths from drones are in the single digits. Similarly, in a speech in May, the President argued that "these strikes have saved lives." He also made the disingenuous statement, "It is false to assert that putting boots on the ground is less likely to result in civilian deaths, or to create enemies in the Muslim world." Lewis and Holewinski's report focuses on the greater risk to civilians posed by drones as opposed to manned aircraft, something President Obama, and others who have defended the use of drones, have ignored.

Not only does the use of drones kill civilians, it is unclear that they are doing any good at all. The report authors note that "as Washington shifts its focus…from large-scale ground operations to more discrete and oftentimes-unmanned operations, the progress U.S. forces have made on preventing and mitigating civilian harm may soon be lost." The result? They emphasize that the use of drones is resulting in community anger towards the US, which "may be crippling counterterrorism efforts in the longer term."

These revelations are not shocking to activists who have been opposing the use of drones abroad and at home. The conversation around drones needs to continue, or these deaths will go unchecked. Visit Bill of Rights Defense Committee's Drone Regulation Campaign page to learn more about the use of drones domestically and how it is linked to the overseas use of drones.
Guantánamo force feedings draw fire for torture
Three Guantánamo detainees had their plea to stop force-feeding during the holy month of Ramadan shot down in federal court on July 16. Judge Rosemary M. Collyer noted her lack of jurisdiction over the case due to Congress' blockade on federal courts' reviewing "treatment and conditions of confinement" at Guantánamo.

Despite Congress' actions, Collyer stated:

Even if the Court had jurisdiction to consider Petitioners' motion for preliminary injunction, the motion would be denied due to failure to show likelihood of success on the merits and because the public interest and balance of harms weighs in favor of the Government.

Judge Collyer aimed to justify her decision by writing,

Although framed as a motion to stop feeding via nasogastric tube, Petitioners' real complaint is that the United States is not allowing them to commit suicide by starvation. They cite copious experts who state that a sane person should be allowed to choose starvation and death over life...


As his custodian, the United States cannot "allow" any person held in custody to starve himself to death. Whatever the medical ethics for a person at liberty, the United States as custodian has additional obligations. Numerous courts have recognized the Government's affirmative duty to prevent suicide and to provide life-saving nutritional and medical care to persons in custody.

Last week, Judge Gladys Kessler reached a similar decision, though, when compared to Judge Collyer, Judge Kessler seemed relatively sympathetic:

Even though this Court is obligated to dismiss the Application for lack of jurisdiction, and therefore lack any authority to rule on Petitioner's request, there is an individual who does have the authority to address the issue.

Judge Kessler was referring to President Obama, before going on to cite Article II, Section II of the Constitution, which stipulates the dual roles of President and Commander-In-Chief. Those dual roles in fact give the President ample authority to address the issue at Guantánamo. In May, Obama gave a public statement on the matter:

Look at the current situation, where we are force-feeding detainees who are holding a hunger strike...Is this who we are? Is that something that our founders foresaw? Is that the America that we want for our children? Our sense of Justice is stronger than that.

Despite the lofty declarations, Obama hasn't stepped in to take preventative measures. Interestingly enough, the Commander-in-Chief himself ordered the force-feeding that same month.

Following the order, Al-Jazeera exposed the force feeding procedure by publishing the manual online. The document delineates methods of restraints over extended periods, supervision, re-force feeding if vomit is induced, and so on. It was likely used as a guide during the filming of the visceral micro-doc featuring Muslim rapper Yasiin Bey, also known as Mos Def.
The force-feeding procedures continue, violating international standards and human rights. Jon Eisenberg, the attorney representing the detainees, explained their intentions:

They don't want to commit suicide. They want to protest their indefinite detention, and hunger striking is the only means of doing so.
Along with their freedom, any sense of self-determination has also been stripped from them, all without trial or evidence of crime.
New Resources and Opportunities
How to organize a protest in your community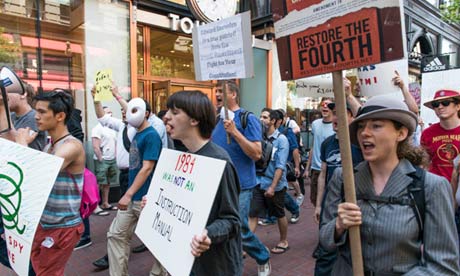 On July 4, there were protests in dozens of cities standing in support of the Fourth Amendment and against unconstitutional NSA spying. The Bill of Rights Defense Committee is proud to support the Restore the Fourth movement, and played an especially active role in building a coalition to support the rally in McPherson Square in Washington, DC.
BORDC compiled a how-to guide offering guidance and best practices when planning and executing protests. Please feel free to cross-post this anywhere you'd like. If you have more ideas or suggestions, email the BORDC organizing team at organizing (at) bordc (dot) org.
Microgrants offer opportunities for grassroots action
To help encourage outreach, public education, and grassroots mobilization, BORDC has provided microgrants to coalitions that have participated in one of BORDC's anchor convenings, such as the May 2013 convening in the Bay Area, CA. Grants of $300 to $500 are available to help active coalitions expand their local visibility, host events, and/or build capacity.

Made possible through a generous grant from the Unitarian Universalist Service Committee, 2012 microgrants have been used in a number of ways: community building events, forums, meetings, photography equipment, and creative public actions.

2013 microgrants are available to coalitions that participated in BORDC's spring convenings in the northeast and Bay Area. Contact us at organizing (at) bordc (dot) org for details on how to submit a simple and straightforward application.
Hold your elected officials and candidates for office accountable: pledge to support only those who defend your civil liberties
Are you frustrated by the ongoing assault on your civil liberties?
Here's an online opportunity to connect the dots and encourage greater respect for constitutional values by your state and federal representatives.
Most elected officials and political candidates ignore civil liberties, or pay lip service to the principles while abusing them in practice. BORDC aims to shift the conversation in Congress on several issues, including:
domestic surveillance and intelligence collection (whether through domestic drones, fusion centers, the NSA's warrantless wiretapping program, or the FBI's infiltration of ideological groups and attacks on the press);
militarization of police agencies (exhibited by domestic drone proliferation or procuring DHS and DOD equipment through federal grants);
racial profiling (exhibited by anti-immigrant profiling, and racial profiling in the failed war on drugs); and
ideological profiling and the prosecution of thought crimes (exhibited by the FBI infiltrating Muslim faith institutions, raiding labor organizers and peace activists, and coordinating the suppression of the Occupy movement, or the IRS selectively targeting Tea Party organizations for audits and questions preceding tax status designations).
How can you address each of these issues at once? By declaring that you will support only political candidates "who aggressively defend the constitutional rights of all Americans..." Sign the pledge below and pass it along!
I ____ am a registered voter in the ____ congressional district in ___.

I pledge to support only those elected officials (and candidates) who aggressively defend the constitutional rights of all Americans to be free from domestic surveillance, intelligence collection, police militarization, racial or ideological profiling, mass incarceration, prosecution for thought crimes, and other instruments of the national security state.
As we reach a critical mass of signers in each state, BORDC will reach out to elected officials in that state to share your pledges, and encourage their support for a reciprocal pledge to challenge the executive branch through vigorous oversight and affirmative legislation to restore our rights.
Help BORDC restore the rule of law
---
Contributors: Shahid Buttar, George Friday, Nadia Kayyali, Michael Figura, Corina Leu, Isaac Kornblatt-Stier, Barbara Haugen, Chris Burnett, Joel Ayala, Emily Leslie, David Wilson.
Banner Photo Credit: Storm Front by Matthew Johnston
Bill of Rights Defense Committee 8 Bridge St., Suite A
Northampton, MA 01060
Telephone: (413) 582-0110
Fax: (413) 582-0116