August 2011, Vol. 10, No. 8
---
In this issue:
Congress extends FBI director's term, but Obama heeds BORDC's call for a new inspector general
BORDC News
Grassroots News
Law and Policy
New Resources and Upcoming Events
---
Congress extends FBI director's term, but Obama heeds BORDC's call for a new inspector general
Last month, thousands of you joined us in opposing the proposed extension to FBI Director Robert Mueller's term. Sadly, despite our calls for long-overdue transparency and accountability, Congress submitted to the president's demands and within days voted to keep Mueller in office for another two years—the first time Congress has extended an FBI director's term since J. Edgar Hoover.
The Bill of Rights Defense Committee is sorely disappointed that Congress has again abandoned its constitutional responsibility to monitor the FBI's activities and protect the rights and liberties guaranteed to all Americans by the Bill of Rights.
Whatever our "leaders" in Washington may do, however, We the People still have a voice. And together, our voices were heard.
Although Congress kept in place the leadership that has overseen the FBI's extensive rights abuses over the last decade, the White House did follow our coalition's recommendation to nominate an inspector general for the Department of Justice. The previous inspector general, Glenn Fine, revealed rampant abuse of surveillance powers under the USA PATRIOT Act, for instance—but that office has now been vacant for several months.
Just days after BORDC released our coalition letter signed by 40 organizations from across the political spectrum, the Obama administration nominated Michael Horowitz to fill the vacancy. We are pleased that the president is finally moving forward on this nomination, but the White House remains woefully behind on staffing the Privacy and Civil Liberties Oversight Board and has ignored widespread civil rights concerns about national security, immigration enforcement, and criminal justice programs and policies.
It is now up to Congress to act quickly and hold hearings on Mr. Horowitz's nomination. The FBI has gone unsupervised for far too long. See our video "The unPATRIOTic Act & COINTELPRO 2.0" to learn more.
BORDC News
Michael Ostrolenk and Jon Pincus join board of directors
This month, BORDC proudly welcomed two new members to our leadership.
Michael D. Ostrolenk is the founder and national coordinator for the Medical Privacy Coalition. He is the co-founder and national director of the Liberty Coalition, a transpartisan coalition of groups working to protect civil liberties, privacy, and human autonomy. He is also co-founder and president of the American Conservative Defense Alliance.
Jon Pincus is an entrepreneur, writer, and activist in Seattle and San Francisco. He has previously worked as a software developer with Microsoft and his latest project is qweries. Jon has worked extensively in online activism and was instrumental in founding Get FISA Right. Read more about Jon on his website.
BORDC seeks fall semester interns
As the summer draws to a close, we at the Bill of Rights Defense Committee are seeking skilled and enthusiastic interns to join our team. If you or anyone you know would be interested in an internship focused on civil liberties, constitutional rights, and grassroots activism, please see the internship listing on our website:
Opportunities are available throughout the US, and we will accept applications through Labor Day (September 5). Though we are recruiting interns for the school year, applicants need not be students to be considered, so please share this information with not only current students but also recent graduates, those embarking on a new career path, and anyone else seeking to expand their skills and support the struggle to restore constitutional rights.
For those who might be interested in volunteering for BORDC with a lower level of commitment, we also offer a variety of other opportunities, including research, grassroots organizing, outreach, and writing. For example, writing for our blog is a great way to build your skills and gain recognition under your own byline. Sign up to be a volunteer!
BORDC in the news
Many media outlets are taking notice of the Bill of Rights Defense Committee's work throughout the country. In the past month, Executive Director Shahid Buttar has appeared on a number of broadcast programs, including Legally Speaking with Carmen Russell-Sluchansky. Local campaigns that we support are earning press, too: the Daily Hampshire Gazette in Northampton, MA featured that city's "Preserving Civil Rights campaign on its front page. And we continue our work to insert new voices into the policy debate: the American Constitution Society recently cross-posted a piece summer intern Sarah Berlin wrote for BORDC's People's Blog for the Constitution, titled "FBI: Preying on Immigrants to Hoodwink the Public."
To see more of BORDC's growing voice in the press, visit our media archives.
Grassroots News
Patriot Award: Rocky Anderson
Each month, BORDC recognizes an individual who has done outstanding work in support of civil liberties and the rule of law by honoring that person with our Patriot Award. This month, we recognize Rocky Anderson, former mayor of Salt Lake City, for his work promoting human rights.
Rocky began fighting injustice and defending the constitution as a lawyer in Salt Lake City. For 21 years, he worked on civil rights and consumer protection cases and advocated for civil liberties, family planning resources, and educational reform. He believed then, as he does now, that the only way to breathe life into the Constitution is to hold government accountable. After becoming fed up with elected officials' disregard for human rights and the culture of complacency, Rocky ran for mayor of Salt Lake City.
He served as mayor from 2000 to 2008 and worked tirelessly to promote sustainability, immigrants' rights, and equality. In 2006, Rocky made the bold decision to not run for reelection and instead dedicate his life to grassroots organizing. He made this decision after seeing so many people's outrage and passion thwarted by lack of opportunities to take action. Rocky saw that atrocities like the genocides in Rwanda and Bosnia could have been curtailed if people had forced their elected officials to take action; the responsibility lies with each of us to speak out against injustice and to hold our elected officials accountable for their actions.
Rocky started High Road for Human Rights (HRHR) to "organize people throughout the nation to make more noise—to take effective grassroots actions—so that elected officials are never again able to excuse their failures to act on the ground that they are not hearing from their constituents." To do this, HRHR works to raise awareness of human rights issues ranging from global warming to torture. It provides people from all walks of life with tools to take effective grassroots action. HRHR supports teams of people across the country who work collaboratively to educate and mobilize their communities. In particular, HRHR has been mobilizing support for a seven-step solution to torture that includes accountability for violations of the law, limiting the "state secrets" doctrine, ending unconstitutional signing statements, and seeking transparency into torture.
According to Rocky, the numerous problems that interfere with the rule of law—torture, state secrets, signing statements—"spell out as imperial a presidency as this country's ever known." Widespread complacency, both in Congress and in the public, has enabled the Executive Branch to gain power and threatened our time-tested system of checks of balances. Rocky believes that increased awareness and grassroots organizing can solve this crisis and restore the rule of law.
Through this and all of his other work, Rocky continues to encourage and inspire others to "make more noise" and reminds us of that every individual holds the power to create change.
Northampton campaign hosts creative public education event
The Preserving Our Civil Rights (PCR) campaign in Northampton, MA, is moving full steam ahead. The campaign organized a successful civil rights trivia night, at which more than 40 participants crowded into a local coffee shop to answer questions and learn about civil rights abuses in the surveillance, immigration, and criminal justice arenas. Participants in the contest included children, college students, and veteran organizers who had been involved in fighting for civil rights for several decades.
Contact Grassroots Campaign Coordinator Emma Roderick for a civil rights trivia template if you'd like to host a similar event in your community.
This event was the latest in a series organized by the campaign, which is seeking local reforms modeled after the Local Civil Rights Restoration Act. The city council is expected to vote on the first piece of the legislation—protecting Northampton residents from racial and ethnic profiling in immigration enforcement—at a meeting on Thursday, August 18. The campaign will host a rally outside of the Northampton City Hall that day at 6:30 p.m., directly before the council meeting.
Arts Against Repression in Albany, NY
On August 5, a number of community, peace and justice, and faith based organizations sponsored an Arts Against Repression event in Albany, NY. Spoken word, jazz, rap, and poetry enhanced the stories shared by victims of civil rights abuses, offering hope and inspiration for attendees concerned about profiling in the wars on drugs, terror, and immigration. The Muslim Solidarity Committee hosted the lively and uplifting night and plans to continue reaching out to communities across Albany.
Hartford Civil Rights Coalition joins with Hope Out Loud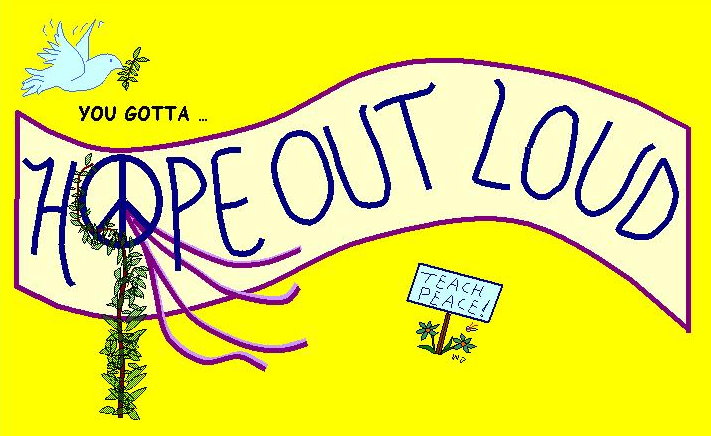 The local civil rights coalition in Hartford, CT, will join the Connecticut Coalition for Peace and Justice next month at its annual Hope Out Loud arts festival. The festival began as a peaceful response to the terrorist attacks of September 11. It brings community organizations around the Hartford area together to join in concert, rally, playground, and remembrance. The coalition, which plans to re-introduce an ordinance modeled after the Local Civil Rights Restoration Act this October, is preparing for a community forum and additional events this fall. Contact Grassroots Campaign Coordinator Emma Roderick to get involved.
Tell us what's happening in your community! Please send us information about your actions and events. We're always eager to publicize efforts to defend constitutional rights.
Read the latest news and analysis on our blog
Recent highlights from the People's Blog for the Constitution:
Law and Policy
Senate Intelligence Committee votes to extend FISA as some members resist
Earlier this month, the Senate Intelligence Committee voted to extend the controversial FISA Amendments Act of 2008—which authorized the NSA's warrantless wiretapping scheme that has been held unconstitutional by every federal judge ever to have reviewed the program—until 2013. Some senators, however, are raising their voices to defend privacy and constitutional rights.
The US Senate Select Committee on Intelligence, which was borne out of a wide-ranging investigation of surveillance abuses during the 1970s, last week voted to extend the unconstitutional surveillance program for over two years—without any public notice and in spite of the fact that the law is not set to expire.
During the same closed-door session, the committee voted to reject a proposed amendment offered by Senators Ron Wyden (D-OR) and Mark Udall (D-CO) that would have required the inspector general to report on the number of Americans whose communications have been monitored since 2008. Wyden and Udall, who also raised concerns during the PATRIOT Act reauthorization votes earlier this year, had already asked the director of national intelligence to estimate that number, but were told that "it is not reasonably possible to identify the number of people located in the United States whose communications may have been reviewed under the authority."
Wyden has also raised concerns about how widely the government is using cell phone data to track the location of Americans, and pledged to force Senate debate on the proposed FISA extension. Together with Udall, he recently wrote that "that most members of the American public would be very surprised to learn how federal surveillance law is being interpreted in secret."
Judge vindicates NSA whistleblower, criticizes DOJ prosecutors
In a dramatic turn at the end of a long-running prosecution, a federal judge criticized the Justice Department for its prosecution of Thomas Drake, a former senior NSA employee and Air Force and Naval Reserve pilot accused of felony espionage but ultimately convicted of just a misdemeanor. The judge sentenced Mr. Drake to one year's probation and 240 hours of community service.
The sentencing came after a four-year ordeal that could have sent Drake to prison for decades. Though he was prosecuted for espionage, his ultimate offense was revealing to a reporter classified information that exposed "financial waste, bureaucratic dysfunction, and dubious legal practices in NSA counterterrorism programs."
In delivering the sentence, U.S. District Judge Richard D. Bennett had harsh words for the government, calling it "unconscionable" that Drake and his family were dragged through "four years of hell" only to have prosecutors ultimately back down on all felony charges.…

While prosecutors described Drake as ego-driven, he was often portrayed by sympathizers as an honest, patriotic man, and even won a $10,000 Ridenhour prize in April for truth-telling....

"In the end, I was just being an American who simply stood up as a public servant in defense of truth, justice and our Constitution," Drake said after the sentencing.
Drake's prosecution is just one example. President Obama promised the most transparent administration ever and as recently as 2009 praised whistleblowers as guardians of the public interest, but his administration has charged more government whistleblowers with espionage than every prior administration in US history combined. And only two of those cases were inherited from the Bush administration. According to political scientist Gabriel Schoenfeld, "Obama has presided over the most draconian crackdown on leaks in our history—even more so than Nixon."
In May, prior to the resolution of his case, Drake told the New Yorker:
"I did not tell secrets. I am facing prison for having raised an alarm, period. I went to a reporter with a few key things: fraud, waste, and abuse, and the fact that there were legal alternatives to the Bush Administration's 'dark side'" —in particular, warrantless domestic spying by the N.S.A.
Media coverage of the attacks in Oslo reflect Islamophobia in America
Although the attacks in Oslo last month happened thousands of miles from the United States, the media's response has revealed a great deal about American society. The initial reports of the attack and those that developed as more information became available reflect deeply entrenched anti-Muslim sentiments in the United States.
Evidence of Islamophobia is all too easy to find in the US, including infiltration of religious organizations, sting operations verging on entrapment, hate crimes, and special registration requirements. Even the way the media defines terrorism reflects an anti-Muslim bias that is irrational in light of clear evidence that terrorism knows no religion.
Glenn Greenwald pointed out that initial claims that the attack was committed by Muslim extremists reveal how Western nations have come to define terrorism exclusively as acts of violence by Muslims. This association of Islam and terrorism has grown to the point where news sources from the New York Times to Fox News automatically assumed that Oslo attacks were the work of Muslim extremists. Upon learning that the terrorist, Anders Behring Breivik, was a white Christian motivated by anti-Muslim hatred, many journalists stopped describing the politically-motivated attacks—a car bomb responsible for nearly 10 deaths, followed by the cold-blooded murder of nearly 80 people, including children—as terrorism.
The double standard visible in these events continues well after initial coverage of the incident. Peaceful Muslim-Americans are viewed with suspicion and are subject to profiling based on their beliefs, but anti-Muslim bloggers who fanned the flames of Breivik's hatred have faced little criticism and continue to spew their vitriol. According to Greenwald:
If, as preliminary evidence suggests, Breivik was "inspired" by the extremist hatemongering rantings of [Pamela] Geller, [Daniel] Pipes and friends, will their groups be deemed Terrorist organizations such that any involvement with them could constitute the criminal offense of material support to Terrorism? Will those extremist polemicists inspiring Terrorist violence receive the Anwar Awlaki treatment of being put on an assassination hit list without due process? Will tall, blond, Nordic-looking males now receive extra scrutiny at airports and other locales, and will those having any involvement with those right-wing, Muslim-hating groups be secretly placed on no-fly lists? Or are those oppressive, extremist, lawless measures—like the word Terrorism—also reserved exclusively for Muslims?
Administration considers a consumer privacy bill of rights
With the rise of internet commerce and other online services, the need for enforceable codes of conduct to protect consumer privacy has never been more pressing. Without your consent or even awareness, your health records, purchasing history, information about your financial standing, and a wide array of other personal data, is collected online, sold, and stored by insurance companies, lenders, government agencies, and employers (among others). We have no idea how or when our data is collected, how it's sold—and worst of all, how to control the flow of this extremely personal information.
In response to growing concerns about the security of consumers' online privacy, the Obama administration has assembled an Internet policy task force led by the Department of Commerce that is responsible for developing a "consumer bill of rights." This new privacy framework will define rights and obligations regarding the use of personal data. The Federal Trade Commission (FTC) will be authorized to enforce this code against companies that subscribe to the framework and has even proposed its own strategy to further protect consumers' personal privacy.
A preliminary privacy report outlined by the Internet policy task force established three guiding principles in privacy design. First, industries should incorporate security features into their goods and services that would protect consumers' personal information and data. Second, consumers should have the ability to make simpler and more streamlined decisions concerning a particular company's data practices (that means no more 100-page privacy policies). Finally, all companies should guarantee complete transparency of these data practices.
If followed, these three principles will guide developing industries by teaching them effective privacy practices and self-regulatory guidelines from the beginning of product development and also serve as a tool for policymakers both in and out of Congress as they formulate laws governing consumer privacy.
New Resources and Upcoming Events
Most Dangerous Man in America nominated for an Emmy Award
Last year, BORDC helped promote The Most Dangerous Man in America: Daniel Ellsberg and the Pentagon Papers, which went on to be nominated for the 2010 Oscar® for Best Documentary Feature. Last month, this important film was nominated for a 2011 Emmy award for Exceptional Merit in Nonfiction Filmmaking. The Primetime Creative Arts Emmys will take place on September 10 and will air on the E! Network following the event.
Book Review: Green is the New Red
In Green is the New Red: An Insider's Account of a Social Movement Under Siege, Will Potter examines how domestic counter-terrorism efforts have criminalized environmental activism.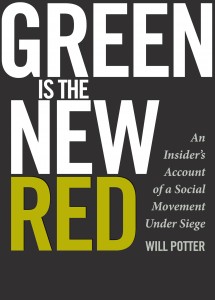 Potter demonstrates how the broad definition of terrorism—and profound legal penalties it carries—has been applied to animal rights activists and environmentalists. Some groups, like the Animal Liberation Front (ALF) and the Environmental Liberation Front (ELF), have widely promoted vandalism and property destruction, but have actively avoided the risk of causing physical injury to anyone. Yet, driven by the corporate lobbies of so-called animal enterprises, Congress enacted the Animal Enterprise Terrorism Act to criminalize non-violent activism once protected by the First Amendment.
Potter, an animal rights activist himself, traces his personal history with members of these groups as they went from student activists to non-violent dissidents to convicted terrorists. According to Potter, the word "eco-terrorist" was coined to politicize counter-terrorism and silence dissent. Potter notes that the definition of terrorism is not consistent: it is routinely applied to environmentalists who burn down buildings and cause property damage without physically harming anyone, while individuals motivated by political ideology who kill an innocent victim by flying a plane into an IRS building, assassinate a doctor during church services, and murder dozens of schoolchildren at a summer camp are not described or treated as terrorists.
Potter ends his book by comparing historical attempts to marginalize groups that threaten the United States' cultural framework. During and preceding the Cold War, communists, anarchists, and a number of other political groups were targeted and labeled as threats because of their "fringe" ideologies. Today, the "green" environmental activist has taken the place of the communist, described as the antithesis of everything America stands for—at least in the eyes of big business. Green is the New Red is a fascinating book that helps shed some light on how counter-terrorism efforts have eroded constitutional rights and continue to threaten democracy in America.
Preserving Our Civil Rights Campaign Rally in Northampton, MA: August 18
Northampton's Preserving Our Civil Rights Campaign is seeking local reforms modeled after the Local Civil Rights Restoration Act. The city council is expected to vote on the first piece of the legislation—protecting Northampton residents from racial and ethnic profiling in immigration enforcement—at a meeting on Thursday, August 18. The campaign will host a rally outside of the Northampton City Hall that day at 6:30 p.m., directly before the council meeting. Please come out and show your support!
A People's Movement Assembly in Raleigh, NC: September 10
On September 10, a coalition of civil liberties organizations will host a half-day event in Raleigh along the lines of a "People's Movement Assembly" to craft a statewide strategy and action plan to end assaults on civil rights and civil liberties. Groups collaborating to host the event include the Association of Mexicans in North Carolina (AMEXCAN), ACLU, The Dream Act, the Muslim American Society of NC, The Southern Coalition for Social Justice, and others.
Pennsylvania Network Against Torture Conference: October 28-29, 2011
The PA Network Against Torture (PANAT) is a network of individuals, faith groups, and civic organizations committed to ending US-sponsored torture, stopping US participation in extraordinary rendition, advocating for a Commission of Inquiry on US involvement in torture, conducting public education about psychological and physical torture in our prisons, and advocating and caring for survivors of torture.
PANAT will host its first conference this fall in Harrisburg, PA. If you are interested in participating in the conference, which will include a keynote address by author Kate Porterfield, please visit the conference website.
September 11 anniversary marks a decade of constitutional crisis
Next month will mark the ten year anniversary of the tragic attacks of September 11 and their even more devastating aftermath. Across the country, groups will gather to commemorate the anniversary and look back on a decade of the national security establishment's continuing assault on the Constitution.
Next month will mark the ten year anniversary of the tragic attacks of September 11 and their even more devastating aftermath. Across the country, groups will gather to commemorate the anniversary and look back on a decade of the national security establishment's continuing assault on the Constitution.
BORDC encourages individuals concerned about the civil liberties crisis to share information with us about related events in your community. Please send any related event notices to info@bordc.org and visit our events page for details on what's happening in your community.
---
Help BORDC restore the rule of law
---
Contributors: Sarah Berlin, Evelyn Crunden, Amy Ferrer, George Friday, Kyle Howard-Rose, Samuel Merker, and Emma Roderick
Banner Photo Credit: Storm Front by Matthew Johnston
Bill of Rights Defense Committee
8 Bridge St., Suite A
Northampton, MA 01060
www.bordc.org
info@bordc.org
Telephone: (413) 582-0110
Fax: (413) 582-0116